That number, 100, is appropriate, of course, because the Dodgers (104 victories) and Astros (101) both finished with more than 100 wins, making this the first time since 1970 — when the Orioles beat the Reds in five games — that the World Series features two teams that both reached the century mark.
• Gear up for the World Series:Astros | Dodgers
Game
Date
Air time
Game time 
Matchup
TV
Gm 1
Oct. 24
7:30 p.m.
8 p.m.
HOU vs. LAD
FOX
Gm 2
Oct. 25
7:30 p.m.
8 p.m.
HOU vs. LAD
FOX
Gm 3
Oct. 27
7:30 p.m.
8 p.m.
LAD vs. HOU
FOX
Gm 4
Oct. 28
7:30 p.m.
8 p.m.
LAD vs. HOU
FOX
*Gm 5
Oct. 29
8 p.m.
LAD vs. HOU
FOX
*Gm 6
Oct. 31
7:30 p.m.
8 p.m.
HOU vs. LAD
FOX
*Gm 7
Nov. 1
7:30 p.m.
8 p.m.
HOU vs. LAD
FOX
In other words, prepare for a scorcher, both literally and figuratively. And here are 10 of the many reasons this World Series will be red hot.
• World Series Media Day schedule
1. Down with a drought
In 2015, it was the Royals ending a 30-year gap between glories at the expense of a Mets team that hasn't won it all since 1986. Last year, it was the Cubs' 108-years-in-the-making party at the expense of an Indians team that hasn't won it all since '48. Once again, the World Series is going to soothe the souls of one fan base while antagonizing the other, and that's just how we like it.
Either the Dodgers are going to win it all for the first time in 29 years, or the Astros will win for the first time in their 55-year history. Per MLB Network's research, there have only been five previous World Series with a greater combined championship drought:
2016: 174, Cubs (107) and Indians (67)
2005: 130, White Sox (87) and Astros (43)
2004: 106, Red Sox (85) and Cardinals (21)
2010: 104, Giants (55) and Rangers (49)
1975: 90, Red Sox (56) and Reds (34)
• One drought will end in Dodgers-Astros WS
2. Century City
Every team aims to win 100 games, even though there's a stigma attached to the stat. In the Wild Card era, 23 teams prior to 2017 hit the century mark, but only three — the 1998 Yankees, 2009 Yankees and 2016 Cubs — went on to win it all. In fact, the 102-win Indians this year became the 12th 100-win team in the Wild Card era that was unable to escape the first round of the postseason.
The 104-win Dodgers and 101-win Astros are the first pair of 100-win teams to match up in the World Series since 1970 (Reds and Orioles) and just the eighth overall. So this is a rare treat that, fittingly, will begin in rare heat. As of this writing, the forecast for the high temperature in L.A. on Tuesday is — you guessed it — 100.
3. An ace will come up aces
It's way too soon to know how future Hall of Fame voting will go, but we feel fairly comfortable asserting that Clayton Kershaw and Justin Verlander are on the short list of big arms who will merit strong consideration when their playing days are done. So it's great to know that one of these guys is about to add a major chapter to his story.
This is Kershaw's first opportunity on the World Series stage, while Verlander was on the Tigers teams that won the American League pennant but came up empty on the World Series stage in 2006 and '12.
"Winning the World Series is really all that we play this game for," Kershaw said. "All the individual stuff is great, but at the end of the day, I just want to win a World Series."
4. Going out on top?
Speaking of Hall of Fame candidates, there's Carlos Beltran, who is wrapping up his age-40 season in style. Hard to say what the future holds for this great slugger after a down offensive year. But having reached the World Series just once — with the Cardinals in 2013 — and coming out on the wrong side of the result after playing through bruised ribs, Beltran made his search for that elusive championship ring a focal point of his free agency. It led him to Houston, where his leadership presence has proved invaluable. And now he has a chance to get what he came here for.
"It's a blessing," Beltran said, "to be in this position."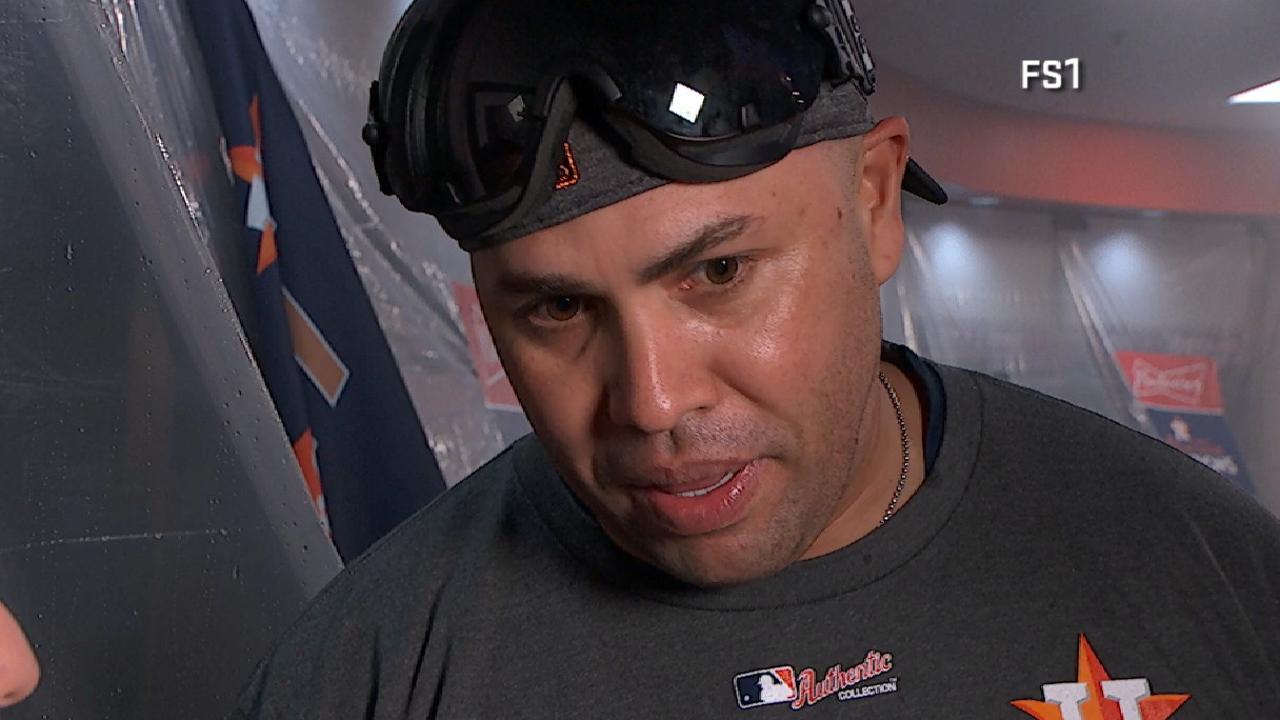 5. The Yasiel Puig Show
At this point, Puig is a storyline unto himself. "The Wild Horse" has finally tamed himself at the plate (he's walked six times and struck out only three this October), but he remains a delightfully untamed bat-licking, tongue-wagging, energetic presence in every other facet on the field. At last, the world (and the World Series) is ready for Puig on the biggest of big stages.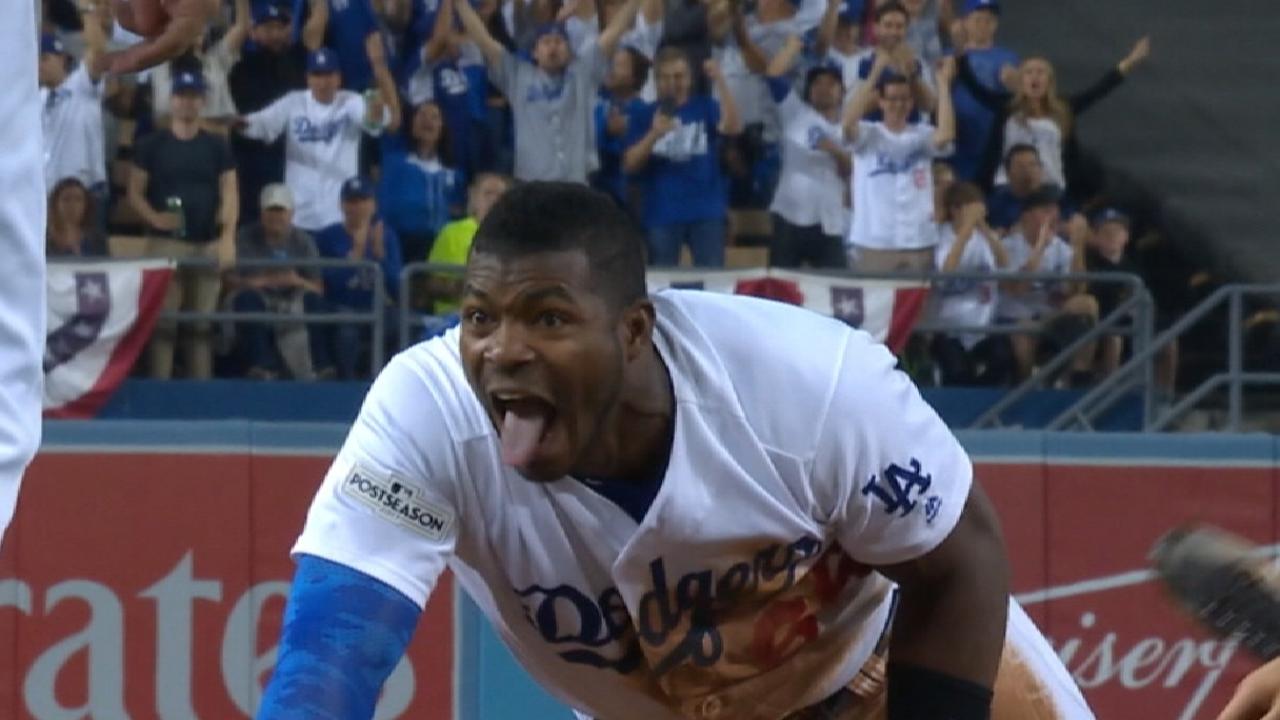 6. Stud shortstops
As of this writing, we don't know for certain if Corey Seager is going to be up and running for the World Series after a back issue kept him off the Dodgers' roster for the National League Championship Series presented by Camping World, but the Dodgers were optimistic.
If so, then we'll be treated to back-to-back Rookie of the Year Award winners (Seager won the NL honor in 2016, and Carlos Correa won it in the AL in '15) manning the same spot on the Fall Classic field. Correa's played 361 career regular-season games and logged a 138 OPS+. Seager's played 329 and posted a 133 mark. They are 23-year-old products of the 2012 Draft (Correa at No. 1 overall and Seager at No. 18) who have wasted little time establishing themselves as elite big leaguers.
7. The ultimate in utility
At a time when versatility is such a resource in roster construction, it's great to see two guys who broke out in a big way while playing all over the place get their Series salute. Chris Taylor reinvented his swing to become the Dodgers' indispensable leadoff man this season — a 4.7-win player, per FanGraphs — and in the postseason, he became the first player in history to homer as both a center fielder and a middle infielder in the same series. Marwin Gonzalez was worth 4.1 in fWAR while playing every spot in the infield and both outfield corners. Taylor came up big when Seager was hurt during the NLCS, named the series co-MVP with Justin Turner, and Gonzalez came up big when Correa was hurt during the regular season.
8. Bright managerial minds
Houston's A.J. Hinch and L.A.'s Dave Roberts are close friends who have discussed what it would be like to match up against each other on the Series stage. Now they'll find out. That they are aligned off the field shouldn't be a surprise, because they both approach their jobs similarly — stressing the importance of communication and positive relationships that make the difficult decisions that come with depth easier for everybody to stomach.
9. Revenge of the Nerds
The term "nerd" qualifies as a compliment in today's game, where even the most old-school of organizations have embraced analytics in some measure or manner. In the three years since Andrew Friedman took over baseball operations in L.A., the Dodgers have been criticized at times for being extremely protective of their prospects in trade talks despite a gigantic player payroll, while the Astros have been criticized at points in the Jeff Luhnow regime for injecting too many statistics into their daily evaluations and approach. But for both clubs, the proof of the value of the process is upon us. These profiled as two of the deeper, more pliable teams in baseball going into the season, and they more than lived up to their capabilities. They also both knew when it was the right time to get aggressive on the acquisition front — the Dodgers with Yu Darvish, the Astros with Verlander.
10. Home cooking
For the first time in history, home-field advantage was determined by regular-season record, as it should be.
This could be a big deal for the Dodgers, considering home teams are 23-8 this postseason (the highest winning percentage since 1987) and both of these clubs are undefeated at home this October. The Astros tied the Indians for the best road record in baseball this season, but they were 0-3 on the road in the ALCS and, of course, will have to account for the lack of a DH spot in Games 1 and 2.
Anthony Castrovince has been a reporter for MLB.com since 2004. Read his columns and follow him on Twitter at @Castrovince. This story was not subject to the approval of Major League Baseball or its clubs.