New York will now face the Houston Astros in the AL Championship Series presented by Camping World. Game 1 is scheduled for Friday at Minute Maid Park.
Participating in their fourth elimination game in the past eight days, the Yankees never trailed in the final three ALDS games. They jumped in front early again on Wednesday thanks to Gregorius, who launched a solo home run in the first inning and a two-run shot in the third as Cleveland ace Corey Kluber was dispatched to his second early exit of the series.
Winning pitcher David Robertson hurled 2 2/3 scoreless innings, Brett Gardner delivered two insurance runs in the ninth with a single to end an epic 12-pitch at-bat against Cody Allen and Aroldis Chapman converted a six-out save, knocking off the defending AL champions as the Yankees became the 10th team to advance after trailing 0-2 in a best-of-five postseason series.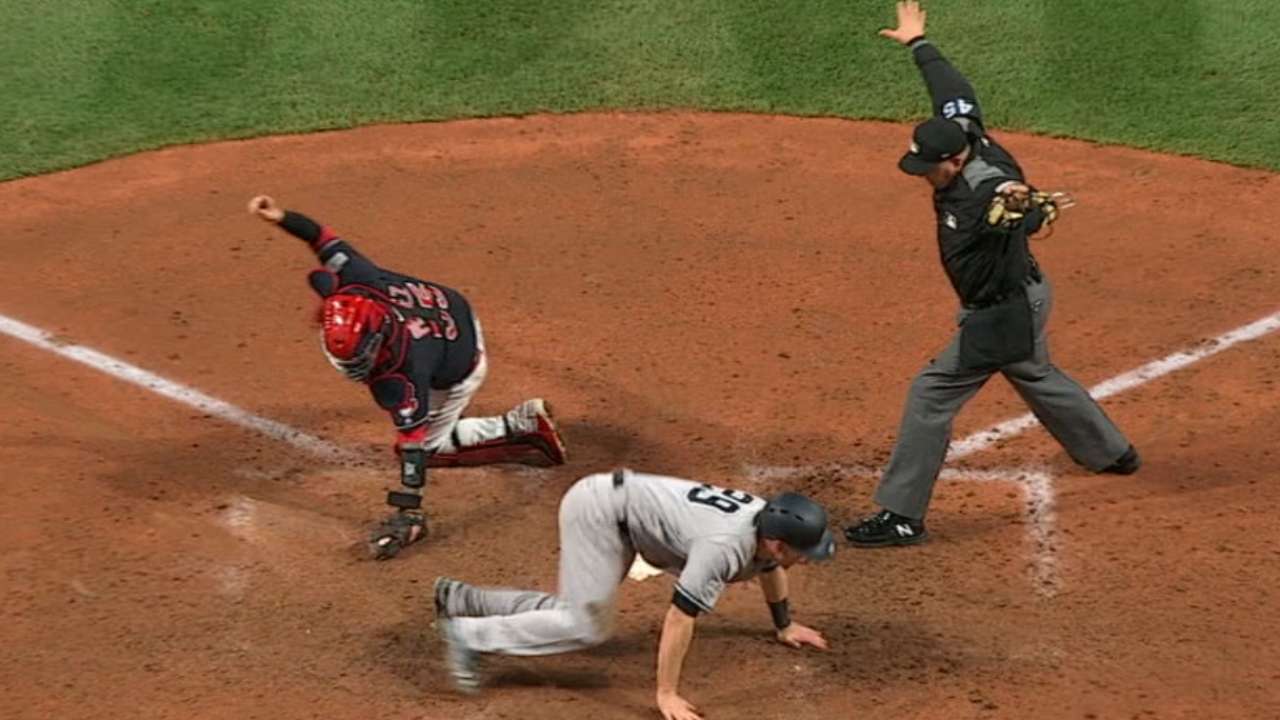 The Indians are the first team since the 2003 Athletics to win the first two games of a Division Series at home before being eliminated by dropping three straight. Dating back to last year's World Series, the Indians have also lost six straight close-out games, and they are 2-8 in close-out games under manager Terry Francona.
Kluber lasted just 3 2/3 innings before Francona turned the game over to the bullpen. The AL Cy Young Award front-runner, who gave up homers to Gary Sanchez and Aaron Hicks in Game 2 on Friday, had never allowed multiple home runs in consecutive starts before this series. Kluber had also never gone fewer than four innings in back-to-back starts.
The all-time leader in starts and innings pitched at Progressive Field, Sabathia seemed to thoroughly enjoy the early stages of his trip down memory lane. The former Tribe ace grinned widely after he pounced off the mound to snare Roberto Perez's popped-up bunt in the third inning, leaving a divot in the infield turf, part of a string in which he retired the first nine Indians and 13 of the first 14.
• CC makes catch, leaves a divot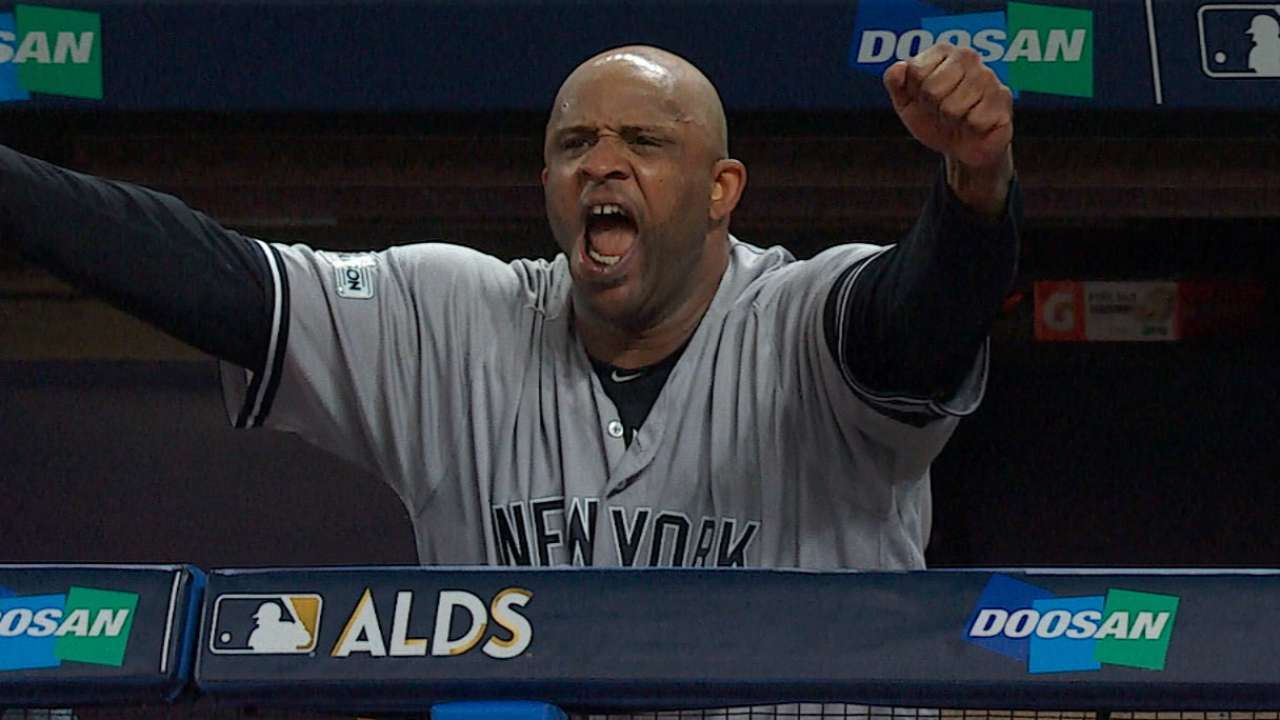 Cleveland did not manage an extra-base hit in Game 5, something it was unable to do only three times this season.
"Whatever you say isn't going to make anybody feel better tonight, but we win together and we lost together," Indians manager Terry Francona said. "It was an honor to go through this year with these guys, and there's times it hurt, like tonight. But it's quite a group, and I feel like a better person for going through the year with these guys."
MOMENTS THAT MATTERED
Yes Sir: Gregorius had been just 1-for-13 in the ALDS entering Game 5, but he produced his biggest swings when it counted the most. Gregorius gave the Yankees a quick lead when he pounced on a 94.1 mph 1-2 Kluber heater for a first-inning solo shot, then put New York up, 3-0, in the third when he cracked Kluber's 86.4 mph 0-1 curveball into the right-field seats. It was the third multihomer game by a Yankees player in a winner-take-all postseason contest, joining Yogi Berra (Game 7 of the 1956 World Series) and Jason Giambi (Game 7 of the 2003 ALCS).
• Didi homers twice off Kluber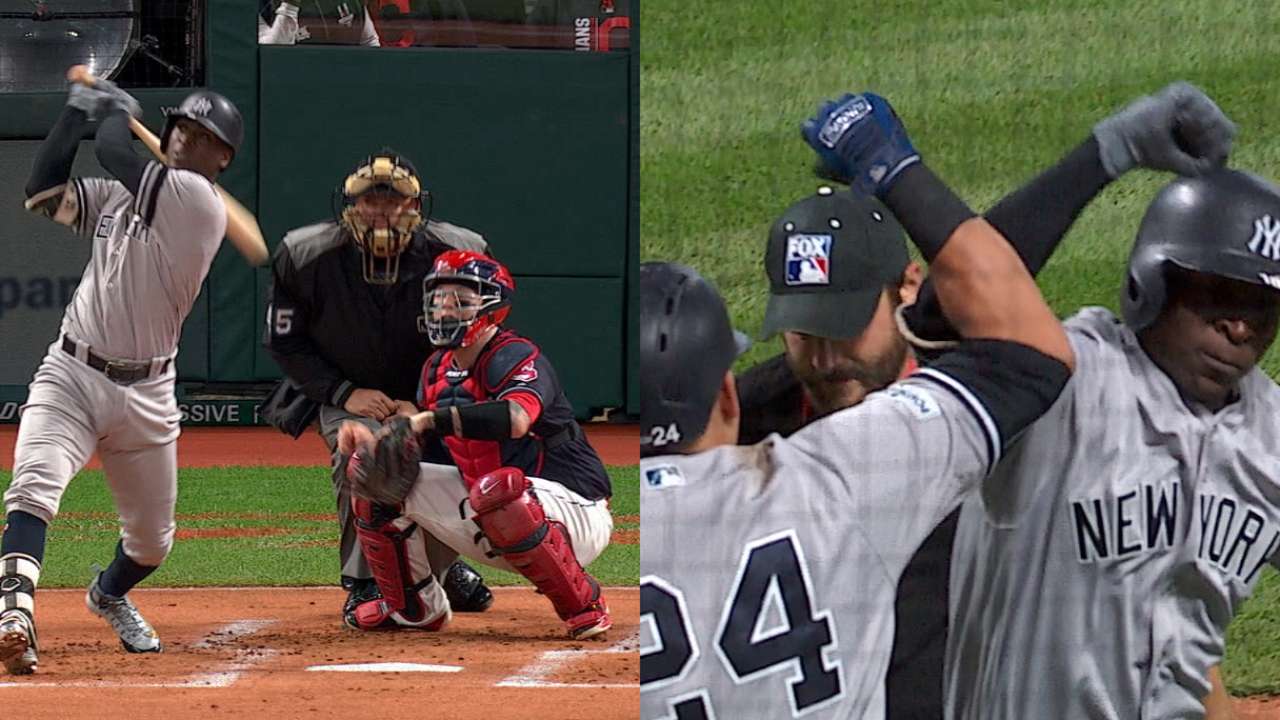 Great escape: Trailing, 3-0, the Indians peppered Sabathia with four straight hits to knock out the veteran and make it a one-run game in the fifth inning, with Perez flaring a run-scoring single to right and Giovanny Urshela picking up an RBI with a ground ball through the right side. The Yankees called upon Robertson, who needed just two pitches to induce Francisco Lindor to ground into an inning-ending double play.
• CC fades in 5th after strong start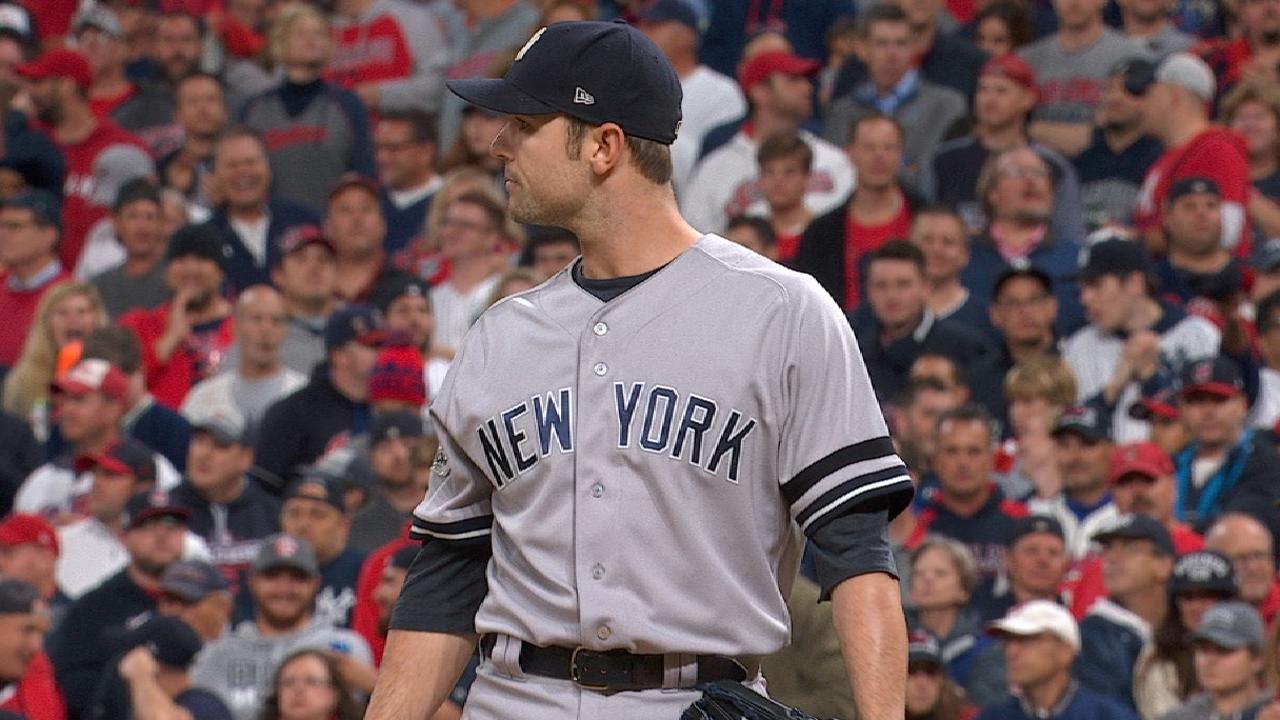 Caught looking, stealing: The Indians ended a Yankees rally in emphatic fashion in the seventh inning, when Gardner reached on a single to bring Aaron Judge to the plate with one out. Setup man Bryan Shaw got a strike-three call on an outside cutter, and catcher Perez quickly fired to second, where Jose Ramirez applied a tag on Gardner for an inning-ending caught stealing. According to Statcastâ"¢, Perez's pop time was 2.01 seconds and his throw clocked in at 81.9 mph.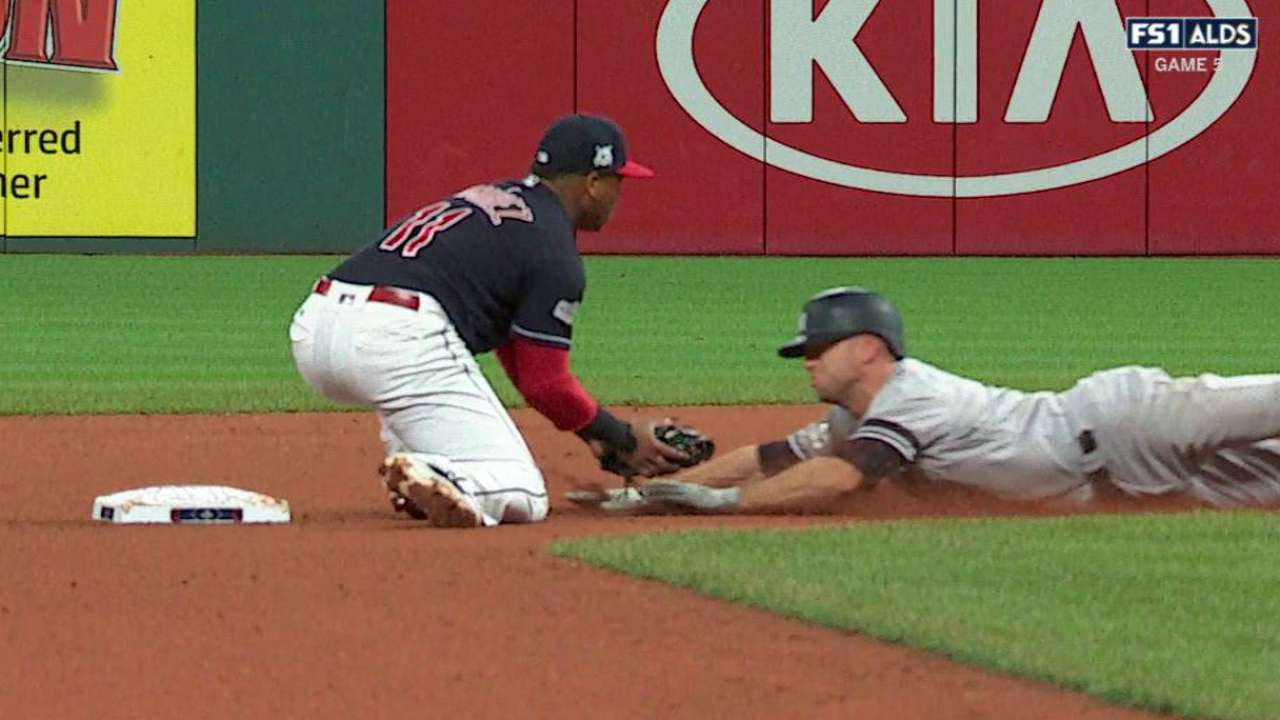 SOUND SMART WITH YOUR FRIENDS
Judge struck out in each of his first four plate appearances, setting and extending the all-time single postseason series record with 16 ALDS strikeouts. The previous mark of 13 strikeouts had been shared by the A's Brandon Moss (2013 ALDS), the Tigers' Austin Jackson (2013 ALDS) and the Cubs' Javier Baez (2016 World Series).
The 30 combined strikeouts in the game set a Major League record for the most in a nine-inning postseason game. The previous record had been 28, done by the Astros and Royals in Game 4 of the 2015 ALDS.
This story was not subject to the approval of Major League Baseball or its clubs.