• Submit a question to the Reds Inbox
Cozart said in the waning days of the season that there had been no talks between his agent and the club. He loves Cincinnati and would like to return. But he likely won't sign for less than he's worth, and at age 32, he really wants to play for a winner.
Did Jesse Winker win the everyday right field spot over Scott Schebler, or will a decision be made in Spring Training?
— @Bennyy_Lair
I don't think Winker won the job outright, for the moment, but he definitely proved he belongs in the Major Leagues. He batted .298/.375/.529 and flashed some power as well, hitting seven home runs in 137 plate appearances over 47 games. Either Schebler or left fielder Adam Duvall (or perhaps center fielder Billy Hamilton) could be potential trade chips, and that would help sort the issue out. Clearly, the Reds have needs — such as starting pitching — and if they don't get what they want via the free-agent market, general manager Dick Williams is not afraid to make trades.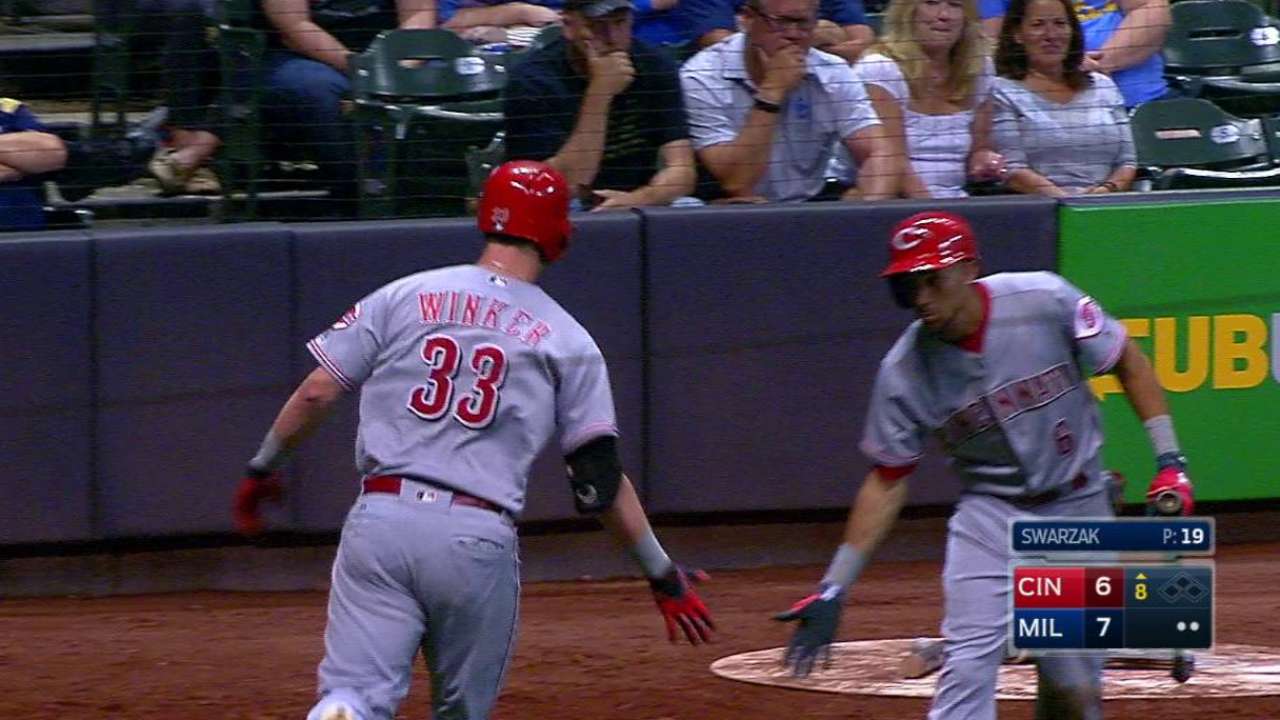 Will the Reds be looking for more bullpen help in the offseason?
— John J., Indianapolis
I would expect them to, because they clearly need someone in the late innings besides Raisel Iglesias and Wandy Peralta. With the young starters (and veteran ones, too) not pitching at least seven innings consistently, the bullpen has to pick up the slack. A veteran right-hander capable of 70-75 games that can handle high-leverage situations is what the Reds need. They will likely look within, but should also comb the market as well.
If the Marlins clean house in the front office as rumored, what are the odds that the Reds bring in Tony Perez in a coaching or advisory capacity or Jack McKeon as an advisor?
— Terry P, Avon, Ind.
It's been recently reported that the new Marlins ownership, led by Derek Jeter, is interested in bringing back Perez, McKeon and other club mainstays from the previous regime after they were initially not renewed. If Perez does not remain with Miami, I could envision the Reds moving quickly. They have a particular affinity for recognizing their history and having that influence around. Perez would be invaluable in helping the current club, especially players from Latin America.
Why do you think there are so many injuries to pitchers, especially the young ones?
— Anthony G., Stone Mountain, Ga.
That remains a frustrating mystery to not just the Reds, but all Major League clubs. Pitch counts and innings limits have not stemmed the tide of arm injuries, namely elbows breaking down. I know it frustrates manager Bryan Price, who previously served as the pitching coach for the Mariners, D-backs and Reds. A friend of mine, Jeff Passan of Yahoo Sports, spent a few years researching the issue and wrote a terrific book called "The Arm." I recommend checking it out, as he wrote about pitchers, doctors, coaches, parents and others trying to figure out how to prevent arm injuries.
Mark Sheldon has covered the Reds for MLB.com since 2006, and previously covered the Twins from 2001-05. Follow him on Twitter @m_sheldon and Facebook and listen to his podcast. This story was not subject to the approval of Major League Baseball or its clubs.