Although Keuchel's velocity never improved, Dodgers second baseman Logan Forsythe, then his college teammate and one of the top collegiate infielders in the country, watched as the results did. Keuchel shaved nearly a run and a half off his ERA in his sophomore season, sharpening the sink on his fastball and the break on his slider. He carved another chunk off his ERA as a junior.
Game
Date
Air time
Game time 
Matchup
TV
Gm 1
Oct. 24
7:30 p.m.
8 p.m.
HOU vs. LAD
FOX
Gm 2
Oct. 25
7:30 p.m.
8 p.m.
HOU vs. LAD
FOX
Gm 3
Oct. 27
7:30 p.m.
8 p.m.
LAD vs. HOU
FOX
Gm 4
Oct. 28
7:30 p.m.
8 p.m.
LAD vs. HOU
FOX
*Gm 5
Oct. 29
8 p.m.
LAD vs. HOU
FOX
*Gm 6
Oct. 31
7:30 p.m.
8 p.m.
HOU vs. LAD
FOX
*Gm 7
Nov. 1
7:30 p.m.
8 p.m.
HOU vs. LAD
FOX
"I think he started to realize the type of pitcher he was," Forsythe said. "He started to become him."
• Dress for the World Series: Get Astros postseason gear
What Keuchel became was a seventh-round Draft pick, an unusual Minor League success story, an American League Cy Young Award winner and, now, a potential foil to Dodgers ace Clayton Kershaw. Keuchel will start Game 1 of the World Series presented by YouTube TV on Tuesday, looking to deliver the first Fall Classic win in Astros history.
"When you get to this point there's only two teams left, and you're the best team in the American League, it's a good feeling," Keuchel said.
By now, Keuchel has discarded most of the anonymity he held in 2015, when he beat the Yankees and Royals in the playoffs en route to an AL Cy Young Award and a top-five AL MVP Award finish. Keuchel led the AL in innings, wins, shutouts and WHIP that year, and following a step backward in '16, he rebounded this summer to go 14-5 with a 2.90 ERA. He works off an upper-80s sinker and cutter, also mixing in a slider and changeup.
If that arsenal seems pedestrian, that's because it is. Among big leaguers with at least 140 innings this season, Keuchel ranked fifth-to-last in average fastball velocity, just edging out a knuckleballer (R.A. Dickey) and a 44-year-old (Bartolo Colon). His advantage comes from elite movement and elite command, a rare combination at any pitch speed. Leading MLB with 70 percent of his offerings in the lower third of the strike zone or below, according to Statcast™ data, Keuchel unsurprisingly posted the league's best ground-ball rate.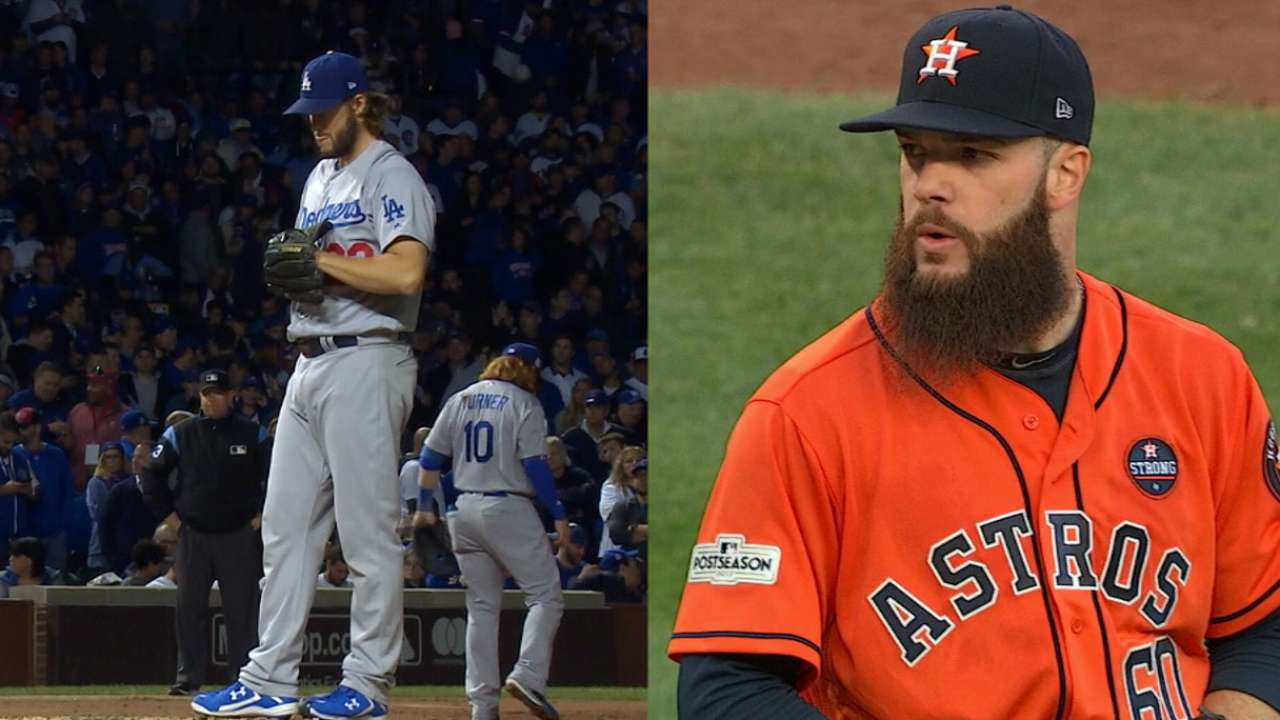 "It's really hard to get the type of sink he gets," Astros catcher Brian McCann said. "He pitches to all four quadrants with all four pitches and he changes speeds on all four pitches. That's what separates him. In an era when everyone is going full-throttle, he can pitch at 80 percent, and add and subtract. He knows himself better than anyone I've ever played with."
That was not always the case. Astros pitching coach Brent Strom recalls first meeting Keuchel, then a 26-year-old with a 5.20 ERA, during Spring Training in 2014. That particular morning, Keuchel was throwing on a back field away from the Astros' more well-regarded arms. General manager Jeff Luhnow suggested Strom go watch.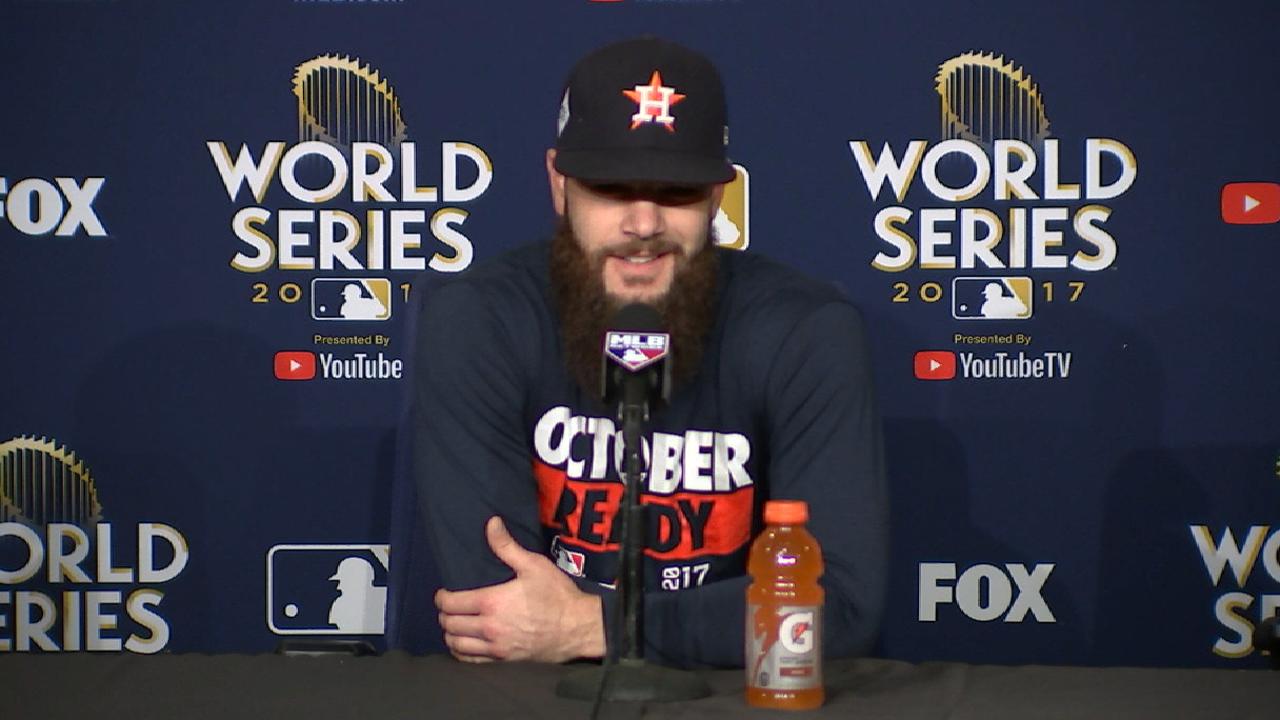 Afterward, Keuchel told Strom he was trying to pattern his delivery off Erik Bedard, a successful pitcher who made a brief career stop in Houston the previous season.
"I said, 'Well, can I show you what Kershaw does? Can I show you what [Justin] Verlander does? Can I show you what some of these other people do?'" Strom recalled.
Within short order, Strom had broken down Keuchel's delivery, making it less upright with fewer moving parts. Simple, basic. Keuchel won 12 games with a 2.93 ERA, and he has been one of baseball's best pitchers ever since.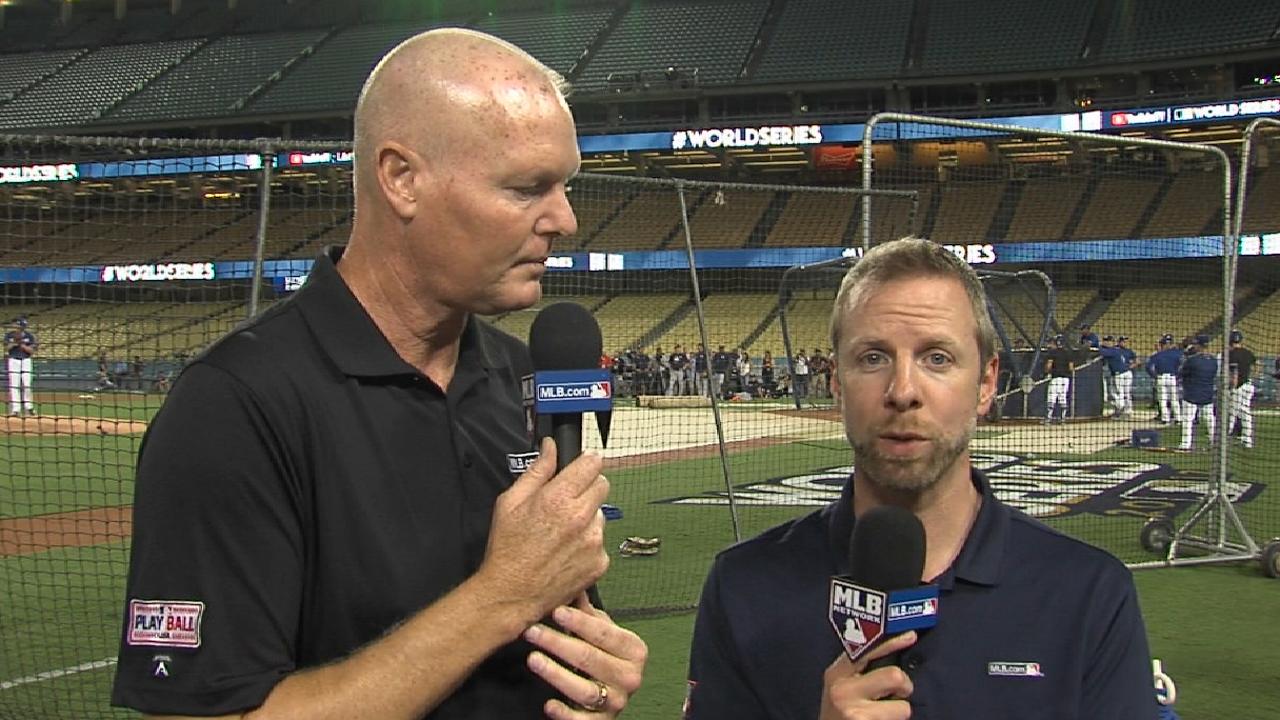 Dodgers manager Dave Roberts defined his Game 1 opponent as a pitcher who "works to the bottom of the zone, changes speeds [and]just misses barrels," as apt a description as any. But all Roberts and his charges have to go on is film. Keuchel has never faced the Dodgers. Only Forsythe, who is 7-for-20 against his college teammate, has any sort of significant history against him.
His advice? "Guess right."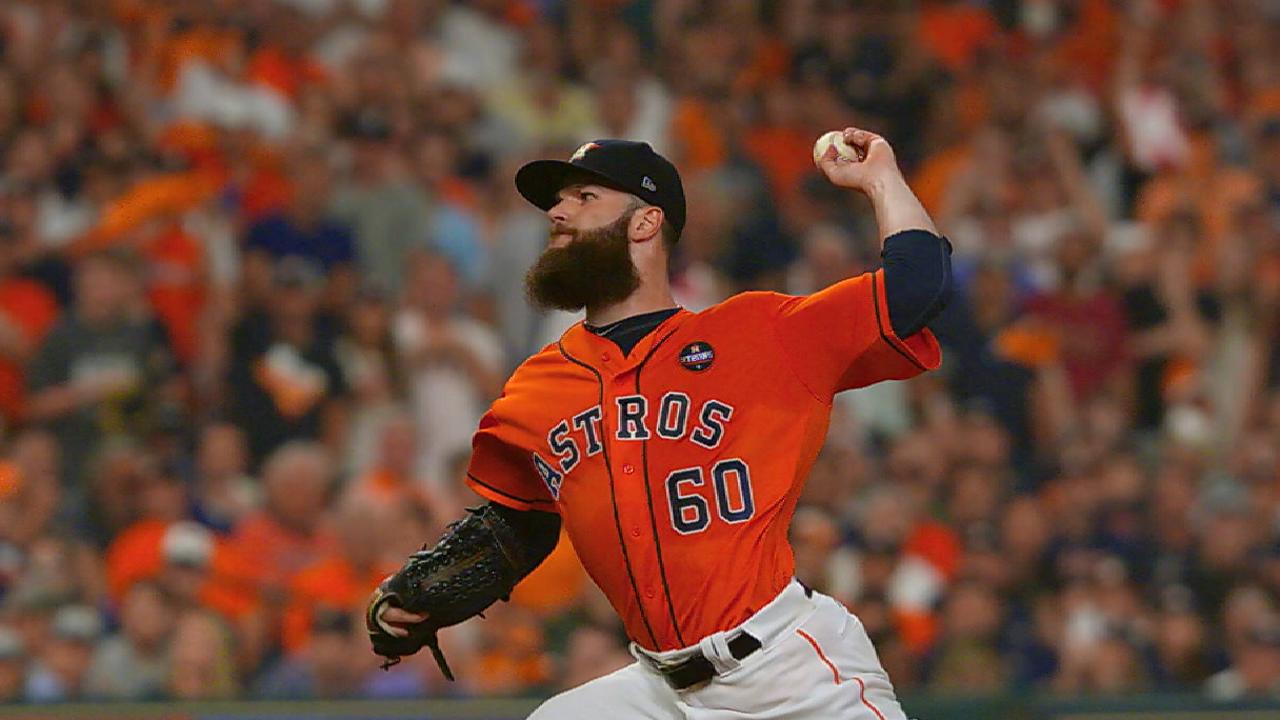 "It's impressive to see throughout the years — like when I first faced him, the movement of his ball compared to last year when I faced him, and just how more precise he's gotten with it," Forsythe said. "Man, he's just a competitor. We're going to have to battle him."
Anthony DiComo has covered the Mets for MLB.com since 2008. Follow him on Twitter @AnthonyDiComo and Facebook. This story was not subject to the approval of Major League Baseball or its clubs.