There is not much he can do about it as the injury lingers. It has been an issue for the past 10 days and the Rangers are not eager to push it.
"He is in the same spot he has been the past couple of days," Rangers manager Jeff Banister said. "We made a decision, where he is at, we'll try to continue managing it and give him opportunities to be off his feet, try to help this thing along. He is still a young player and there are long-term implications."
Mazara would like to finish the season strong. He is hitting .257 with 19 home runs, 94 RBIs, a .333 on-base percentage and a .437 slugging percentage. He leads the team in RBIs and admitted he would like to finish with over 100 RBIs.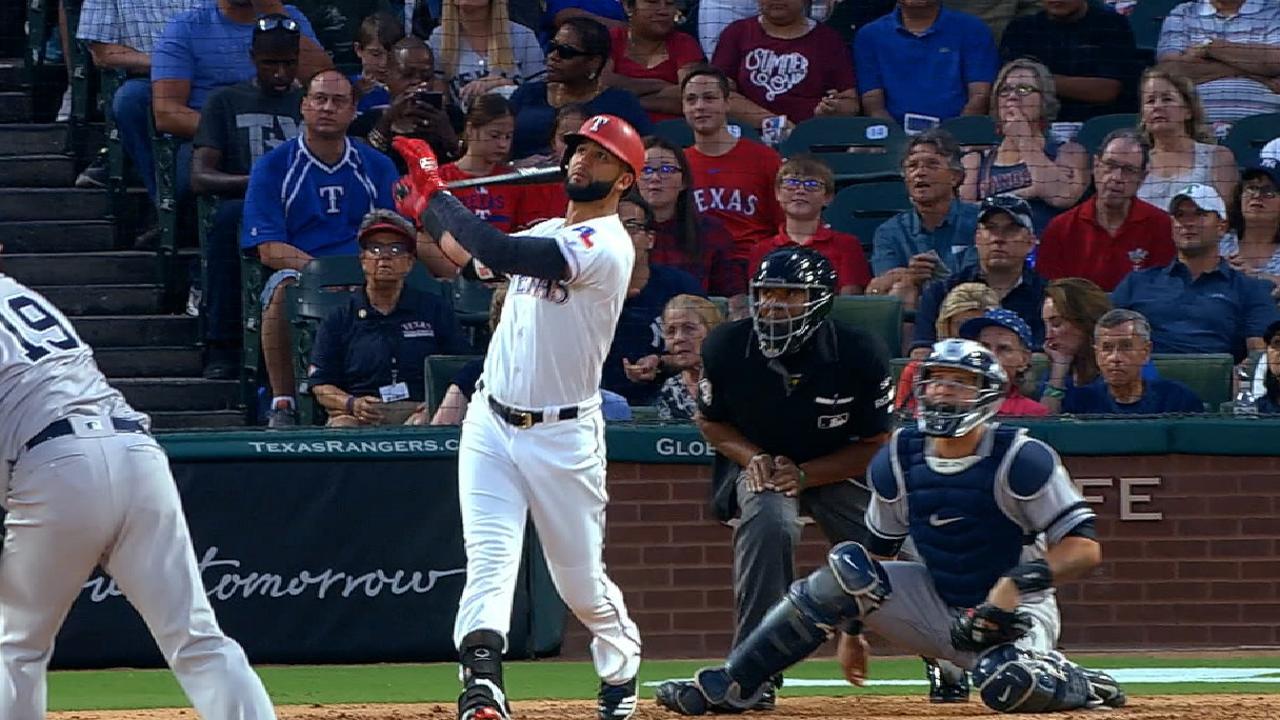 "It's getting better but it's not going away," Mazara said. "I've got to manage it and I'm getting treatment … but it's not going away."
Gomez starts jogging
Center fielder Carlos Gomez, on the disabled list with a sprained right ankle, has started jogging again. The next step will be to start running and see how the ankle responds.
"I'm going to tape it and see what happens," Gomez said. "It's sore but that's all. I'm going to try and run, but I don't think I'll be full speed before the end of the season."
Banister said it's an "outside shot" that Gomez will be able to return to center field.
"I'm not saying he isn't, but…" Banister said. "He is a center fielder. He's got to use his legs. There is a lot more action in center field than any other position."
Rangers beat
• Catcher Robinson Chirinos is the Rangers' nominee for the Marvin Miller Man of the Year Award presented by the MLB Players Association. It's an award that former Rangers infielder Michael Young won twice in his career.
• The Mariners pitchers for the upcoming three-game series against the Rangers in Seattle will be right-hander Mike Leake on Tuesday, right-hander Felix Hernandez on Wednesday and left-hander James Paxton on Thursday.
• Yohander Mendez earned his first Major League loss on Friday when he walked the only batter he faced in a 7-6 loss to the Angels. That batter, Kole Calhoun, scored the go-ahead run in the Angels' five-run sixth inning. It's only the sixth time in franchise history that a pitcher has suffered a loss when walking the only batter he faced. The last was Juan Alvarez on July 28, 2002.
T.R. Sullivan has covered the Rangers since 1989, and for MLB.com since 2006. Follow him on Twitter @Sullivan_Ranger and listen to his podcast. This story was not subject to the approval of Major League Baseball or its clubs.