The Astros' policy is to close the roof if there's a threat of rain, a threat of excessive wind (above 30 mph), a heat index of about 88 degrees for a night game or if the temperature is below 65 degrees. It takes two to three hours to cool the ballpark once the roof is closed, which plays into the decision.
| Game | Date | Time | Matchup | TV |
| --- | --- | --- | --- | --- |
| Gm 1 | Oct. 13 | 8 p.m. | NYY @ HOU | FS1 |
| Gm 2 | Oct. 14 | 4 p.m. | NYY @ HOU | FOX |
| Gm 3 | Oct. 16 | 8 p.m. | HOU @ NYY | FS1 |
| Gm 4 | Oct. 17 | TBD | HOU @ NYY | FOX/FS1 |
| *Gm 5 | Oct. 18 | TBD | HOU @ NYY | FOX/FS1 |
| *Gm 6 | Oct. 20 | TBD | NYY @ HOU | FOX/FS1 |
| *Gm 7 | Oct. 21 | TBD | NYY @ HOU | FOX/FS1 |
• Dress for the ALCS: Buy Astros postseason gear
Major League Baseball has the final say over the roof during the postseason, and the Astros got the approval Thursday to close the roof based on the policy they've had in place. High temperatures in Houston are expected to be in the lower 90s on Friday and Saturday.
Section 11.7 of the MLB postseason manual states the Commissioner or a designated representative shall determine whether a ballpark's retractable roof shall remain open or closed before and during any postseason game.
"The environment's going to be crazy," Astros manager A.J. Hinch said. "The people here are hungry for baseball. They have been passionate about this team. This is an easy team to fall in love with. It's been that way since the beginning of the season. Roof closed can be pretty hot — that's a nice temperature outside to where you can close this roof and get pretty loud. So bring your earplugs. Be ready. It's a pretty loud environment."
Worth noting
• Hinch said the Astros will "more than likely" carry an extra pitcher on their ALCS roster after having 11 in the ALDS. The candidates to be added to the roster, which will be set on Friday, are Collin McHugh, Tyler Clippard, Francis Martes, Michael Feliz and James Hoyt.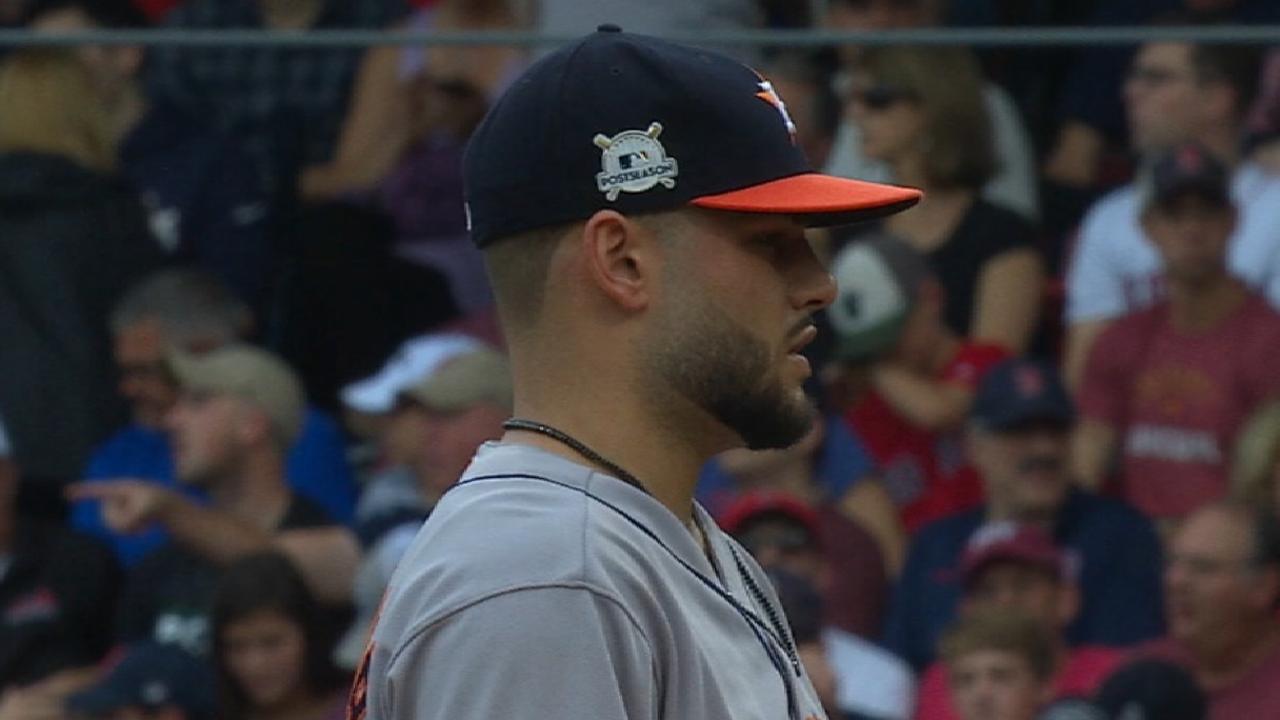 "The three games in a row potential in New York next week, the seven-game series, the belief that it's always good to have multiple options and be able to match up accordingly has led us to most likely having an extra pitcher," Hinch said.
Hinch said Houston will again carry a third catcher, which means Juan Centeno will be back on the roster for the ALCS. Infielder/outfielder Tyler White, a right-handed bat, was the only player the Astros didn't use in the ALDS.
• Astros outfielder Jake Marisnick, whose regular season came to an end on Sept. 13 when he fractured his right thumb while sliding into second base in Anaheim, said Thursday he plans to pick up a baseball soon and is holding out hope he could be available if the Astros reach the World Series.
"I got the pins out, and everything is kind of progressing in the right direction," said Marisnick, who hit .243 this year and set a career high with 16 homers. He's the club's best defensive outfielder.
When asked if the idea of playing in 10 days was a realistic timeframe, Marisnick said it was.
"I think so," he said. "Just the way I've been able to start picking stuff up and moving my thumb, it's progressing better than I thought and better than we thought. We'll see where we're at in a couple of days, and hopefully we'll keep going and get a chance to get out there on the field again."
Brian McTaggart has covered the Astros since 2004, and for MLB.com since 2009. Follow @brianmctaggart on Twitter. This story was not subject to the approval of Major League Baseball or its clubs.