Q. How about your take on Arrieta? It seemed like he had a lot of movement on just about everything he threw?
DAVE ROBERTS: He did, and you knew a guy like that, he's going to go out there and compete. In an elimination game, he's going to leave it all out there, and that's exactly what he did. Got him to 110 pitches and he left it all out there. Kept us off balance. Made pitches when he needed to. The sinker was moving. He had curveball working today, throwing it for a strike and then down below the zone when he needed to. Kept a lot of our lefties at bay. We had some good at-bats against them, but really couldn't break through. It's just a credit to him. He made pitches when he needed to.
Q. Some of the Cubs players said after last night that there's no pressure on them because no one is expecting them to win; that the pressure would be on you guys. Did you guys have that same mentality back in 2004 when you were with Boston down 3-0 to the Yankees?
DAVE ROBERTS: Yeah. I wouldn't say that the pressure is on us. I think that we're in a pretty good spot. We've got our number one pitcher going tomorrow, and we've got two of the guys at the back end rested. But I can't speak to their mindset, but I still like the position we're in.
Q. What was your view on Granderson's at-bat there?
DAVE ROBERTS: Which one? The last one?
Q. Yeah.
DAVE ROBERTS: Well, obviously, from where I'm at in the dugout, it's hard to — you can't hear it, number one. Jim Wolf, the home plate umpire, couldn't hear it as well. So we asked for a little help. It was a close one. Curtis in the replay, really hard to see. But Curtis said he tipped it, and I think Coop over there, one of those umpires, they got together, and in our eyes I think that they made the right call. But ultimately it didn't affect the game. Davis, he made a good pitch to strike him out there.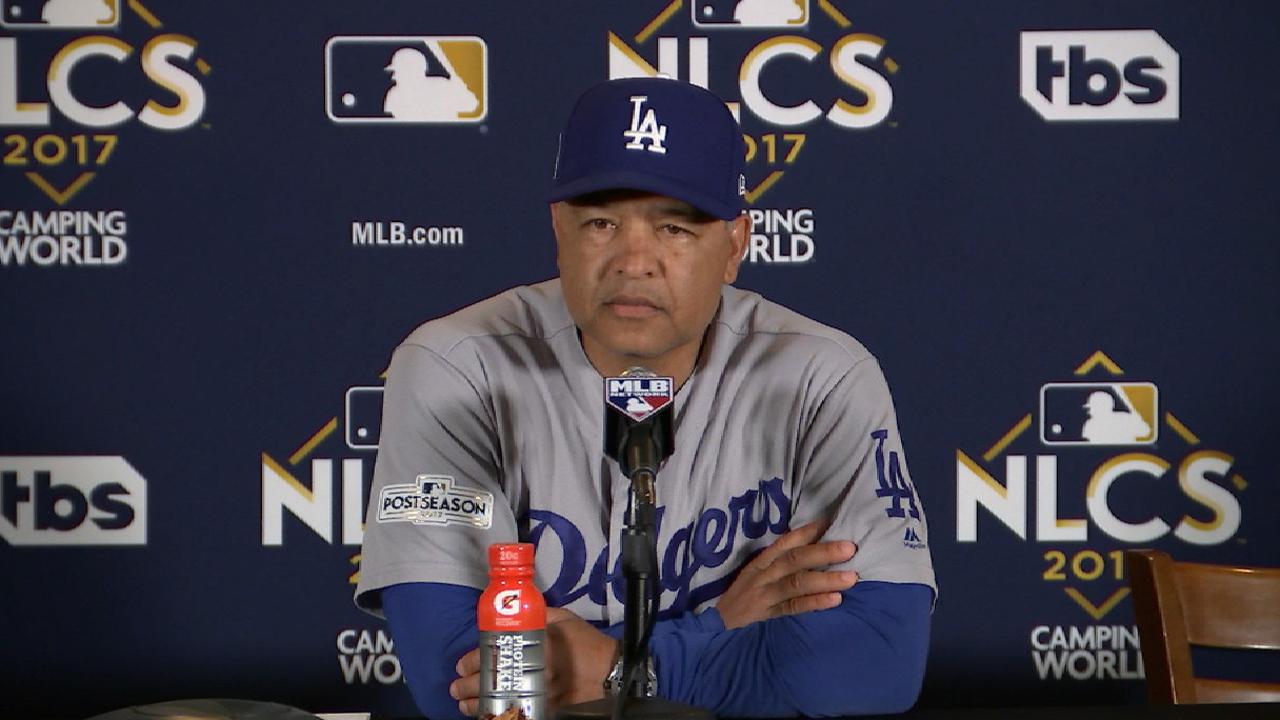 Q. Were you surprised how sharp Arrieta was considering he was coming back from the hammy and hadn't really pitched all that well from all the video you guys got to see over the last four or five starts?
DAVE ROBERTS: I wouldn't say surprised. Obviously he hadn't thrown the baseball the way he's capable of throwing the baseball his last few starts. But today you could see he was locked in and knew that he needed to give his club length. He did that. Obviously when you get Wade Davis to go out there and give them two innings at the back end, they were selling out. But, yeah, to your question, no, not surprised. I mean, he's a great competitor.
Q. I'm sure you always respect the opponent, but when you're in this situation, trying to put them away, do you factor in at all in your thinking that this is a team that's been on a great run, over three years and the World Series champs, do you figure they're going to be tough to put away?
DAVE ROBERTS: Yeah. I think, yeah, we don't expect anyone to lay down. It's a very talented group. They are. They're the world champs, and you know they're going to fight to the end. So today, they did. We got beat today. And I think the thing is you can't win them all. You're not going to win them all. But I think that it's — you feel better that I thought we pitched well, I thought we competed in our at-bats, but we got beat tonight, and that's going to happen.
Q. This is the first time you guys have lost a game in two and a half weeks now. That's rare during the baseball season. How does that affect your preparation tomorrow and the comeback from this?
DAVE ROBERTS: It doesn't affect it at all. We're going to do the same thing we can today and the days prior with the intent to win a baseball game. It's a good feeling when we wake up tomorrow, we know Clayton's taking the mound. But as far as our mindset, the psyche, we know we're going to be in for a battle tomorrow, and we'll be ready.