Porcello rose to the occasion Saturday in a 3-1 win over Tampa Bay, cruising through a hyper-efficient 7 1/3 innings while allowing just an unearned run. He threw 12 pitches or fewer in all but one of the eight frames he appeared in (a 21-pitch fourth being the outlier).
That was a drastic change from his start last week against the Rays in Fenway Park, when a 39-pitch fifth ended his night in a losing effort. That night, he fell to 1-4 with a 4.91 ERA against the Rays in 2017.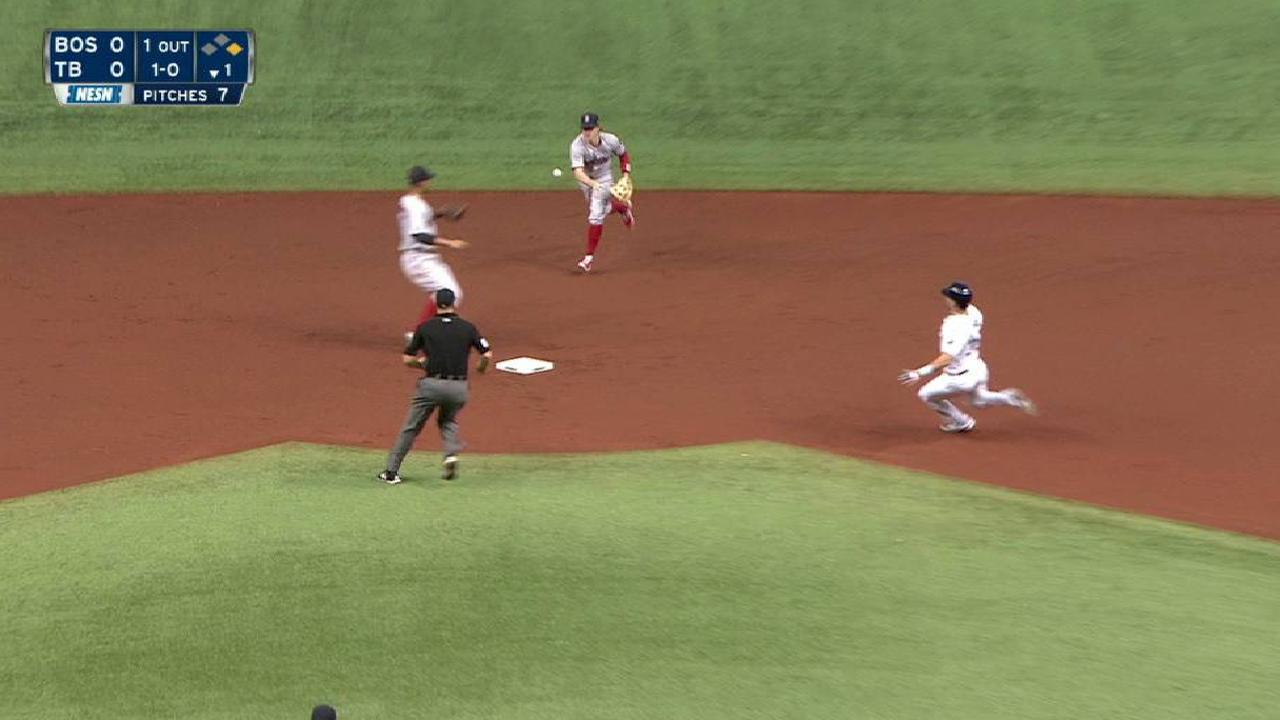 "My last start, I needed to be better," Porcello said. "I hit a wall and I didn't have enough of a mix to keep them off balance. They were pretty much on to me and I ended up throwing … [39] pitches in one inning because I couldn't mix it up enough. So the focus was to change eye levels, use the breaking ball more below the zone and expand. Use their aggressiveness to our advantage and try not to get into these mid-count foul ball battles by elevating fastballs."
Tampa Bay worked against itself with its willingness to swing early, often lofting harmless fly balls on the first pitch. Boston did not have to spend much time in the field, unlike on Friday, and they were able to score three runs in support of Porcello.
That has been a rarity in 2017. Porcello leads the Majors with 17 losses, but in 10 of them, Boston was held scoreless when the righty was on the mound. In the other seven defeats, they scored either one or two runs with Porcello in the game. He's managed to lose nine quality starts, the most for a Red Sox pitcher since 1930.
Porcello hasn't been as effective as he was en route to winning the American League Cy Young Award in 2016. Entering Saturday, he had given up more hits and home runs than anyone in the AL, and had a 4.64 ERA as a result (up from 3.15 in 2016).
But Porcello is quite capable of showing flashes of that Cy Young self, and that was readily apparent Saturday night.
"When we score runs for him, he's as good as a pitcher as we've seen all last year," manager John Farrell said. "And I know the ERA is a little bit inflated this year, but when we score three or more runs for him, we're in pretty good shape with him on the mound."
Connor Mount is a reporter for MLB.com based in St. Petersburg. This story was not subject to the approval of Major League Baseball or its clubs.