"There's no question that it does exceed expectations," Counsell said. "It certainly played out in a way that was probably the best-case scenario of how it played out and how they fit in the lineup around Ryan [Braun] and the balance of the top of the lineup against right-handed pitching. It's been important for us, for sure, and I think it's been a big improvement over what we featured in 2016."
Back to back solo homers for Ryan Braun and @travis_shaw21! #ThisIsMyCrew#MILatMIApic.twitter.com/ONGw06eeEv

— Milwaukee Brewers (@Brewers) September 17, 2017
Milwaukee acquired Shaw, 27, in December as part of the package that sent Tyler Thornburg to Boston, and he has posted a career year. Shaw has nearly doubled his career high in homers, seen his batting average climb 30 points and has taken the club lead in RBIs while also posting an .872 OPS.
Thames, 30, has been even more of a revelation. The former Korean baseball star returned to the United States for the first time since 2012 on a three-year, $16 million deal this offseason and has ridden a red-hot April to new career bests in just about every statistical category. Thames, signed to be the replacement for 2016 National League home run champ Chris Carter, has supplied the power with 31 homers and complemented it with an .883 OPS.
Thames has been on a particular hot streak as of late, homering in three consecutive starts before sitting Saturday and Sunday against left-handers.
"It's happening at a big time of the year for us," Counsell said. "He's a guy that obviously, with the power, can impact games really fast. We've seen him do it, and over the last three games or so, he has."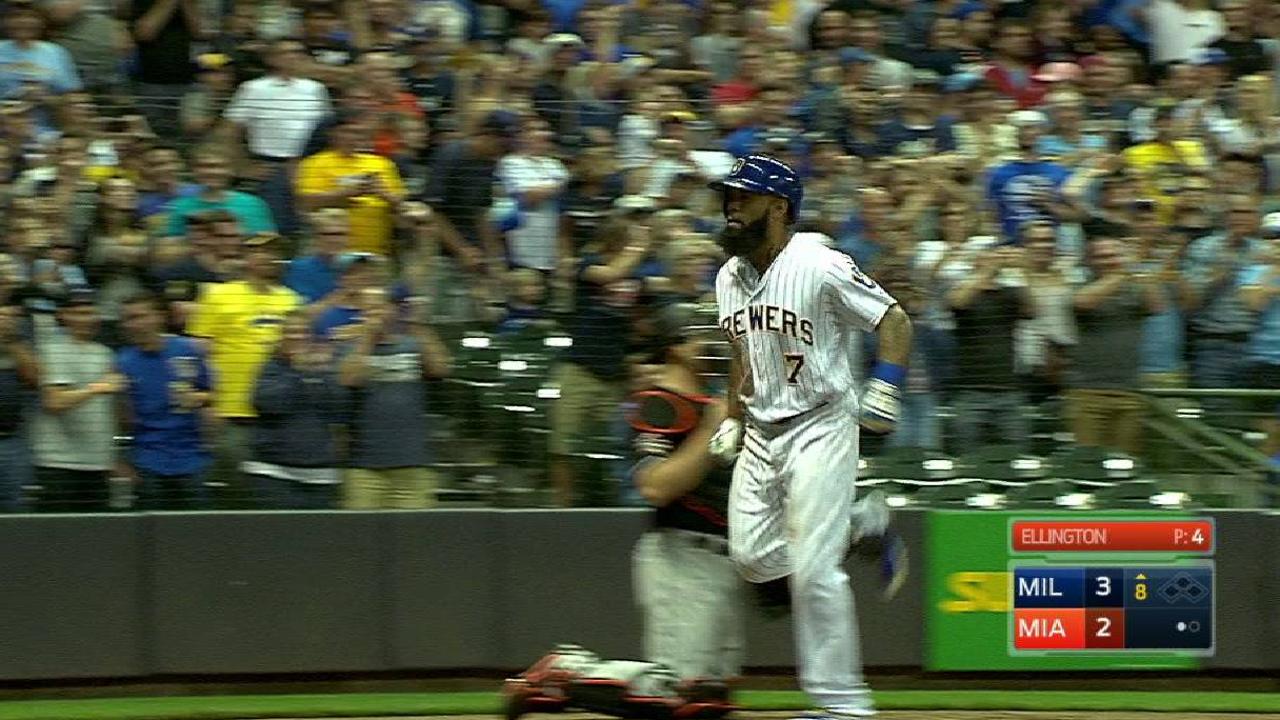 Both first and third base have seen notable jumps in production this season. Backed by Thames, the first-base spot has seen its OPS rise from .804 to .898. Third base has shifted from .714 to .864, with Shaw also becoming just the second third baseman in franchise history — after Braun in 2007 — to launch 30 home runs in a season.
Counsell said one of the pair's biggest impacts hasn't just been when in the lineup — the team has been able to replace the duo if not in the order. The two are staples against right-handed pitchers, leading the club to a .756 OPS against righties while still maintaining a .741 mark against lefties.
"Travis and Eric have been fixtures against right-handed pitching, and they've really driven a lot of our offense against right-handed pitching, for sure," Counsell said. "Other guys have stepped in against left-handed pitching in different times of the year. It's our balance. You've seen it in September. We've had choices with different pitchers as to getting very left-handed or very right-handed to try to take advantage of some matchups."
Fabian Ardaya is a reporter for MLB.com based in Chicago. This story was not subject to the approval of Major League Baseball or its clubs.