Mesa (16-13-1), which beat the Surprise Saguaros for the 2016 title, is trying to become the first team to successfully defend its AFL championship since the 2004-08 Phoenix Desert Dogs. Peoria (18-12) is playing for its first championship since 2012 and making its first appearance in the final since 2014. The teams will square off at 3 p.m. ET today, with MLB Network and MLB.com broadcasting the game live.
"Anytime you can get a ring, it's a special occasion," Peoria third baseman Michael Chavis (Red Sox No. 2) said. "Knowing the history of the Fall League also makes it special. We want to finish strong. We have a very talented team, and we're so close and having so much fun."
One of the top power-hitting prospects in the Minors, Chavis is one of five former first-round picks the Javelinas could deploy in their starting lineup. The others are catcher Alex Jackson (Braves No. 16/drafted by Mariners), first baseman Josh Naylor (Padres No. 10/drafted by Marlins), catcher/first baseman Max Pentecost (Blue Jays No. 8) and right-hander T.J. Zeuch (Blue Jays No. 5). A 6-foot-7 sinkerballer, Zeuch is expected to start on the mound after going 1-1 with a 3.44 ERA in five AFL regular-season outings.
The Javelinas dominate the AFL leaderboards. Acuna, whom many scouts believe is baseball's best prospect, is also a favorite to win the league's MVP award after topping the Fall League in runs (22), home runs (seven), extra-base hits (12) and total bases (53). Braves No. 10 prospect Austin Riley (six) and Jackson (five) finished second and third in the homer race.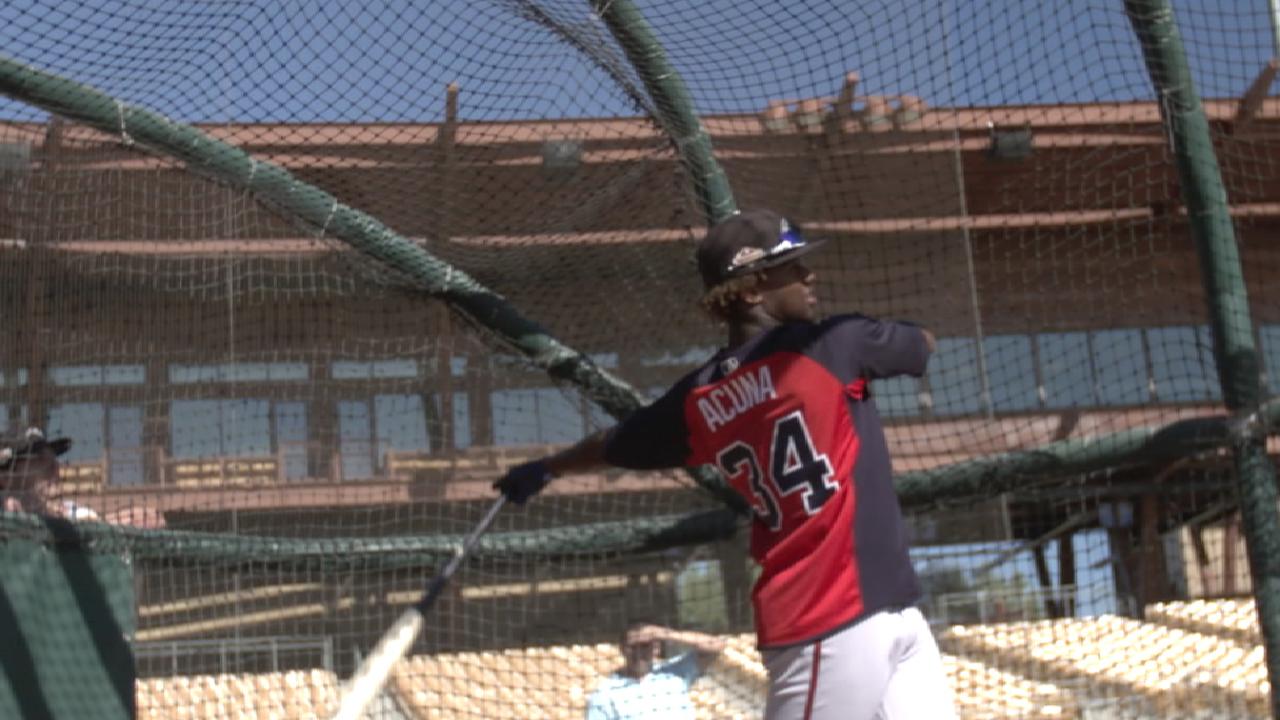 Outfielder Eric Filia (Mariners No. 24), another MVP candidate, led the league in batting (.408), on-base percentage (.483), OPS (1.088) and hits (31). Middle infielder Luis Urias (Padres No. 3), perhaps the best pure hitter in the entire Minors, batted .315 while ranking first in contact rate (one strikeout per 14 plate appearances) and second in walks (14). Left-hander Max Fried (Braves No. 9/drafted by Padres), another first-rounder, paced the Fall League in strikeouts (32) and opponent batting average (.163).
"They've got a great team," Mesa shortstop A.J. Simcox (Tigers) said. "They're loaded with prospects. They're a complete team, got a bunch of speed guys, a bunch of power guys and a bunch of arms. It's going to be a good game."
The Solar Sox aren't lacking in talent either. While neither Robles nor Tucker has posted loud AFL numbers, their teammates have picked up the slack. Second baseman Kody Eaves (Tigers) was Mesa's best regular-season hitter at .337/.389/.554, followed by fellow infielders Sheldon Neuse (Athletics No. 14) at .314/.366/.570 and David Bote (Cubs) at .333/.395/.536. Neuse led the AFL with 23 RBIs and shared top honors in doubles (seven) and extra-base hits (12), while outfielder Charcer Burks (Cubs No. 22) and first baseman/catcher Ian Rice (Cubs) also claimed a share of the doubles lead.
Right-hander Alec Mills (Cubs No. 20), who like Zeuch relies heavily on his sinker, is scheduled to start for the Solar Sox. He went 1-3 with a 3.91 ERA during the AFL regular season and got some brief big league experience with the 2016 Royals.
"We've got a really good group of guys, we've got a lot of chemistry over the past month and we're playing well," Simcox said. "We had a good idea we were going to be going to the championship a couple weeks ago. We thought we had the team. We're excited for it."
Below is a list of players on championship game rosters who rank on MLBPipeline's overall Top 100 Prospects or on one of our organization Top 30 Prospects lists:
Mesa Top 100 Prospects
OF Victor Robles, Nationals' No. 1 (No. 2 overall)
OF Kyle Tucker, Astros' No. 1 (No. 7 overall)
Mesa Organization Top 30 Prospects
LHP Framber Valdez (Astros' No. 14)
RHP Dean Deetz (Astros' No. 26)
RHP Logan Shore (Athletics' No. 8)
C Sean Murphy (Athletics' No. 11)
3B Sheldon Neuse (Athletics' No. 14)
RHP Adbert Alzolay (Cubs' No. 3)
RHP Alec Mills (Cubs' No. 20)
OF Charcer Burks (Cubs' No. 22)
OF Daniel Johnson (Nationals' No. 10)
3B Kelvin Gutierrez (Nationals' No. 12)
C Taylor Gushue (Nationals' No. 23)
RHP Gerson Moreno (Tigers' No. 25)
RHP Spencer Turnbull (Tigers' No. 28)
Peoria Top 100 Prospects
OF Ronald Acuna, Braves' No. 1 (No. 5 overall)
SS/2B Luis Urias, Padres' No. 3 (No. 48 overall)
3B Michael Chavis, Red Sox's No. 2 (No. 92 overall)
Peoria Organization Top 30 Prospects
LHP Max Fried (Braves' No. 9)
3B Austin Riley (Braves' No. 10)
RHP Touki Toussaint (Braves' No. 14)
C Alex Jackson (Braves' No. 16)
OF Braden Bishop (Mariners' No. 5)
RHP Max Povse (Mariners' No. 8)
RHP Art Warren (Mariners' No. 17)
RHP Matthew Festa (Mariners' No. 18)
OF Eric Filia (Mariners' No. 24)
RHP Darin Gillies (Mariners' No. 25)
SS/2B Chad De La Guerra (Red Sox's No. 23)
2B Josh Tobias (Red Sox's No. 26)
1B Josh Naylor (Padres' No. 10)
RHP T.J. Zeuch (Blue Jays' No. 5)
C/1B Max Pentecost (Blue Jays' No. 8)
Jim Callis is a reporter for MLB.com. Follow @jimcallisMLB on Twitter. Listen to him on the weekly Pipeline Podcast. This story was not subject to the approval of Major League Baseball or its clubs.