For the most part, Wood was sharp Wednesday night — as sharp as he hoped to be, having not pitched since a Sept. 26 start against San Diego. But the 27-year-old left-hander allowed a trio of solo home runs as the Dodgers fell to the Cubs, 3-2, in Game 4 of the National League Championship Series presented by Camping World.
• Dress for NLCS: Get Dodgers postseason gear
"I felt prepared, I felt good, felt my stuff was good," said Wood, who pitched 4 2/3 innings. "It was just two pitches I wished I had back."
Both of those pitches came in the bottom of the second inning — a fastball that Willson Contreras crushed off the left-field scoreboard and a hanging curve that Javier Baez tucked inside the left-field foul pole.
Baez went deep again in the fifth, which proved to be the difference in the game. In Wood's estimation, the pitch was precisely where he wanted it to be. He threw a changeup at Baez's ankles on the outer half of the plate, and the Cubs' second baseman golfed it to left field. The roaring Wrigley Field wind took hold, and the ball landed in the first row.
"You feel like you've made a quality pitch," Wood said. "I'd rather it be the one Contreras hit. I threw that middle-middle. He hit it 500 feet. It's something where if you throw a quality pitch — a pitch he doesn't hit well at all — and he gets it up in the air, it's a little frustrating, for sure."
Wood's night came to an end two batters later when the Cubs turned their lineup over for a second time. He struck out seven and allowed four hits.
"He threw the ball well," Dodgers manager Dave Roberts said. "You can, even when you give up three homers. The two to Baez were down below the zone. He took two good swings on those balls and hit them out of the ballpark. The one to Contreras, elevated fastball. But for not pitching in three weeks, I thought he was sharp, competed and gave us a chance to win."
The Dodgers' offense — which averaged 5.8 runs per game this postseason entering Wednesday — couldn't come back. Los Angeles' two runs were its lowest offensive output of the postseason.
The result was somewhat anticlimactic for Wood, who didn't pitch in the NLDS because the Dodgers swept the D-backs in three games.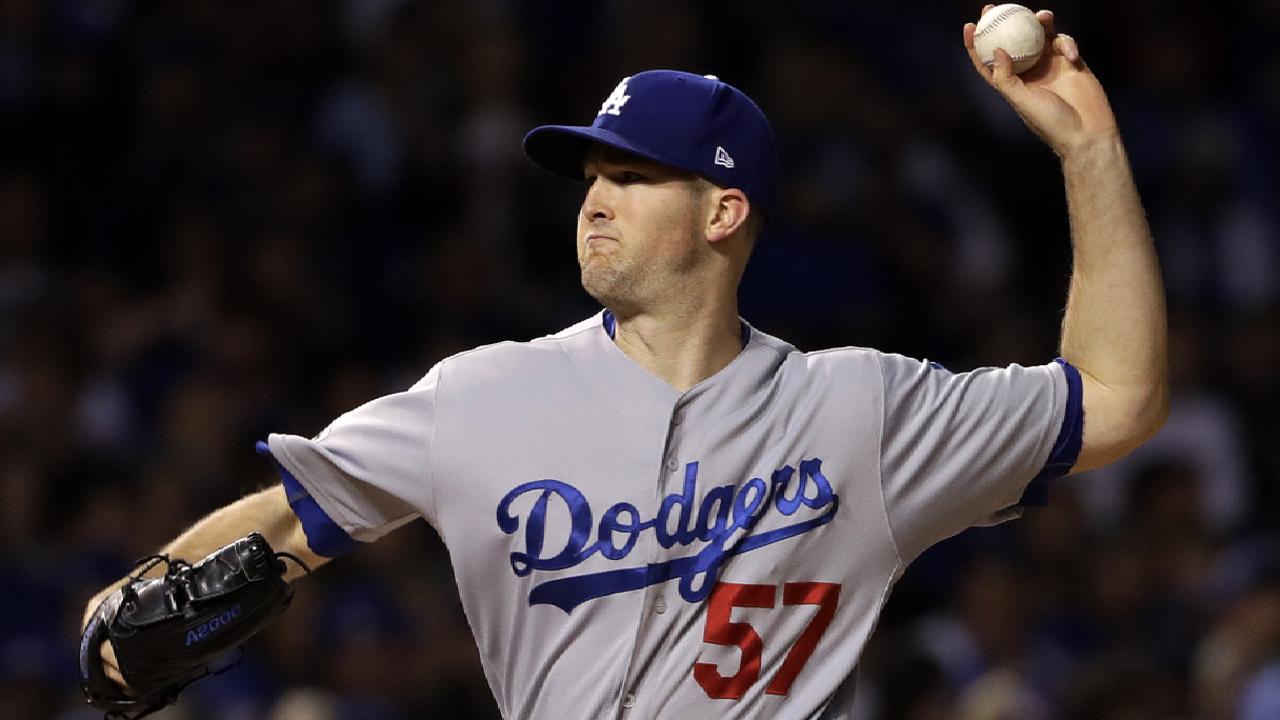 Wood fought all season for a place in the playoff rotation. He opened the year in the bullpen, before earning a starting job by late April. Then, in September, the Dodgers seriously mulled using him in the 'pen in October. Instead, they decided the depth he brought to the rotation was too valuable — especially if it meant avoiding a short-rest start for Clayton Kershaw.
The irony in all this: Wood's next appearance could come in relief. If the series returns to Los Angeles for Games 6 and 7 this weekend, it's a near certainty he'll be available out of the bullpen.
This time, Wood wants to stay out of the 'pen for an entirely different reason.
"It's nice to feel a part of it now," Wood said of his first appearance this postseason. "It [stinks]we took our first 'L' tonight. … Hopefully, we'll finish it out tomorrow."
AJ Cassavell is in his seventh season as a reporter for MLB.com. Follow him on Twitter @ajcassavell. This story was not subject to the approval of Major League Baseball or its clubs.